It's time to throw a House of the Dragon party! With the release of the prequel series House of the Dragon, there's a good reason again to raise your goblet of fine Dornish wine.
Fantasy and sci-fi fanatics are torn between new shows for Game of Thrones, The Lord of the Rings, and Star Wars, as well as a long list of new and upcoming Marvel shows. It's truly a battle of the streaming services, especially regarding House of the Dragon and The Rings of Power, which competed weekly in the fall of 2022.
Whether you're watching Game of Thrones for the first time, revisiting the ups and downs, or checking out House of the Dragon, we have a drinking game for you. Save our game and follow our party tips below.
First, Get Your Game of Thrones Names and Family Lines Right
Get your names and family lineages straight before you get too far into the cocktails.
House of the Dragon begins approximately 200 years before the start of Game of Thrones. It follows the Targaryen rulers, who aren't afraid to mix bloodlines or reuse the same name.
House of the Dragon Family Tree
If you struggled to keep up with Game of Thrones names and family houses, the new House of the Dragon show presents more difficulties. The show introduces a few new houses, in addition to a long list of similar Targaryen names.
Beware that researching the Targaryen lineage will give you some spoilers of where the House of the Dragon show is going. If you want to jump ahead and gain a better grasp of their tangled family relations, take a look at this Targaryen family tree infographic.
1. House of the Dragon Drinking Game
Tyrion, Cersei, Tormund, and even King Viserys himself wouldn't join a party without a drink in hand.
Save our House of the Dragon Drinking Game and our Game of Thrones Drinking Game for all of your Westerosi parties.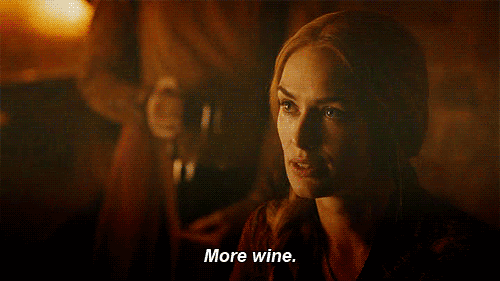 2. Game of Thrones Cocktails and Mocktails
If a Dornish red isn't fantasy enough for you, get creative with Game of Thrones-themed cocktails and mocktails. The internet and Pinterest are filled with Game of Thrones-inspired drink recipes, from Mother of Dragon Fruit Cocktails to White Walker Milkshakes.
3. Celebrate Virtually
Since you're not reliant on ravens, anyone can join in on the celebrations virtually. Sync up the show and follow along with our drinking games together. Don't forget the Game of Thrones gifs!
Sorry Gen Zers, we're not over gifs yet.
4. Plan the Next Party
If you're planning another sci-fi or fantasy party, look no further than our extensive collection of over 1200 games.
We have compilations of drinking games for every Marvel film and a drinking game for every Star Wars film. Check out our Games list for a complete view of all of our drinking games. Use the category tags to sort based on entertainment type. We have a tab dedicated to sci-fi and fantasy. Don't see something you're looking for? Email us at drinkwhengame@gmail.com to make a game request.
Cheers! 🍺